2010 Fancy Red Barr, roan gelding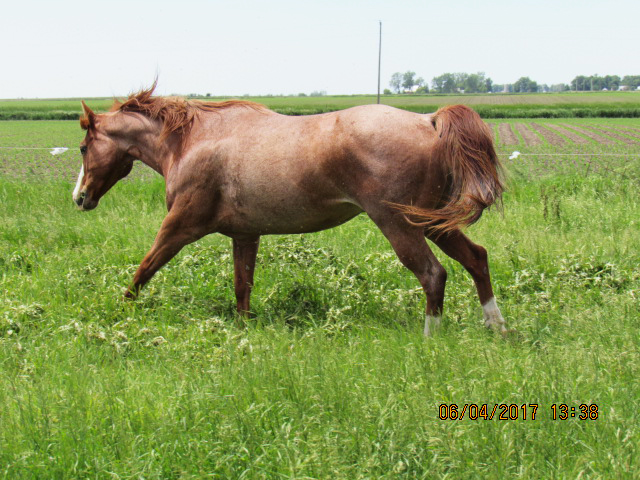 Fancy Red Bark x Fancy Honey Bar
Fancy Red Barr, a/k/a Buster, is a 2010 AQHA red roan gelding by Fancy Red Bark out of Fancy Honey Bar.
Dispositions don't get any better than this one. Quiet, gentle and sensible. Buster has been trail riding in the Black Hills in addition to many miles down the road. He has been tracking steers in the roping pen, recently started dallying in the pen, and gathered cows and calves in the fall.
Buster loads, clips, bathes and stands for the farrier.
He stands a little under 15.2 hands and is a finished head horse. Buster is used a lot in the pasture to doctor and sort calves/cows along with being used in ranch rodeos for various events.

AQHA 2007 Fritzls Hollywood
Hollywood Heat x Fritzls China Doll
AQHA Fritzls Hollywood, aka Holly, is out of Hollywood Heat (345 perf. pts.). Her dam, Fritzls China Doll (on the "Past Sales" page), is an AQHA ROM producer and is out of Docs Fritzl Chex (earner of 25 AQHA points in heading, heeling and working cowhorse: performance ROM) x King Fritz (14 halter & 23.5 performance points) and is a great grand-daughter of Doc Bar. Her dam, Hancock's Doll, was sired by AQHA champion Hancock's Dude and is a granddaughter of Wimpy II.
Holly was foaled March 18, 2007, and has a star, strip, a gorgeous head, and she's inherited a superb disposition from her dam. She shows extreme athletic ability and can run, slide, and turn with the best of them. She is a well broke mare who excels in all aspects of cattle work and has been to the Black Hills and on several trail rides. Holly is the horse that doesn't know she's a horse and has always been a pleasure to be around. She is extremely laid back and will take on anything you can throw at her and master it.
Holly is paid up in the AQHA Incentive Fund. She is a money earner in team sorting and won a rookie buckle in 2016.

AQHA 2013 Red Barks Last Tango, foaled 5/9
Fancy Red Bark x Watch Kool Kya, bay gelding
Turkey Creek NE obstacle course 7/3/16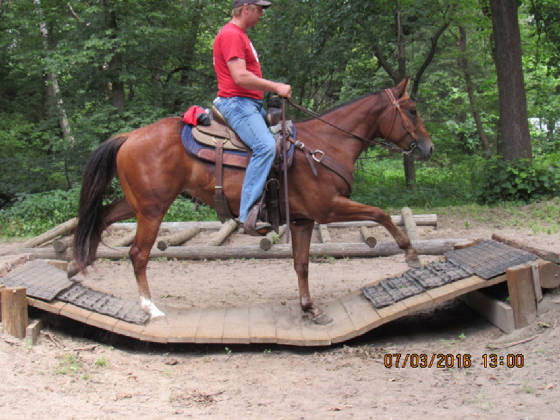 This is the last foal by Fancy Red Bark. AQHA 2013 Red Barks Last Tango, a/k/a Tango, was foaled 5/9. He's a heavily muscled gelding with a pretty dished face and big doe eyes. His only white is a star & right hind sock.
Tango is a 4th generation horse for us, as we owned his great-grandma and owned/raised his grandma & dam.
Tango has 80+ days of riding and doing better than we ever expected. As a 3 yr. old, he rides around like a 10 yr. old gelding when checking cows & calves in the pasture. He has a very willing attitude, is easy to work with, and has been used extensively to move and sort cattle on the farm and as Josh's heel horse.

AQHA 2013 Kaweahs Hollywood, foaled 5/19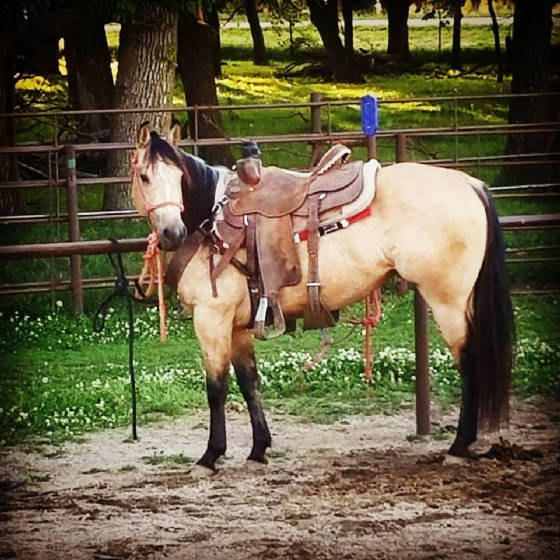 Master Kaweah x Fritzls Hollywood
AQHA 2013 Kaweahs Hollywood was foaled 5/19. She is a daughter of Master Kaweah, who has lifetime earnings of $33,122. Her dam, Fritzls Hollywood, is a daughter of Hollywood Heat, who has earned 34 performance wins and has 345 performance points.
Diva completed 90 days of professional training mid-November 2015 with Cal Middleton Performance Horse in Kansas.
She is extremely friendly and has excellent ground manners. The summer of 2016 she had 60 additional days under saddle and in Sept. returned for 30 more days of riding. Diva ropes on the heeling side and has been used at the sale barn in addition to being started in team sorting.

2015 WA Classic Turbo, dun roan gelding foaled 4/4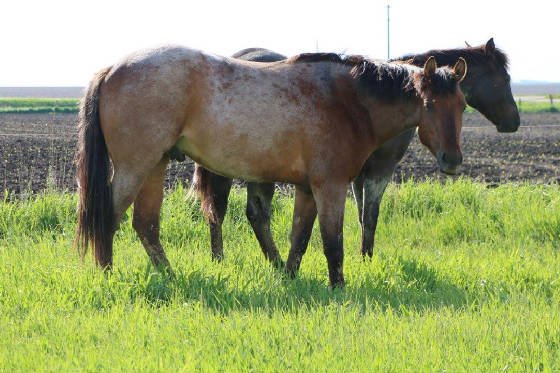 Classicwatchquickson x Watch Misty Diamond
2015 WA Classic Turbo was foaled 4/4. He is a dun roan gelding, with 2 tiny coronet bands on his left side. Turbo is by Classicwatchquickson, a son of Classic Watch, who has his open ROM in heeling, and is out of Watch Misty Diamond, a Peponita bred mare who is 98.44% foundation.
Turbo is athletic and built like a brick. He'll ride with the best of them and will be used for a heading horse when of age. Turbo has had 60-90 days of riding and will return to the trainers in 2018 to be exposed to riding at the sale barn.

2014 AQHA Line of Chexy Lenas, rabicano mare
Shine on Line x Smart N Chex Lena
AQHA 2014 Line of Chexy Linas, is a sorrel rabicano mare, by Shine on Line (LTE $110K), out of Smart N Chexy Lena, an own daughter of Smart Little Lena.
Letty is suitable for any level rider and is a great non pro mare. She's been in training since she was a 2 yr. old. Plans are to start her on cattle in 2018 with possible training down the road at the sale barn and starting her in heeling.