A horse/foal is not secured until a deposit is received towards the purchase price.
Prices are subject to change at any time.
It is important to us how our horses
are taken care of after they leave
our place. Please, if you can't give
them a good home, don't buy them.
We are glad to take additional photos, etc., but PLEASE give us the common courtesy of acknowledging our response and letting us know they were received.

2016 AQHA Little Roan Belle, red roan filly
DW Snippy San x Little Roan Kid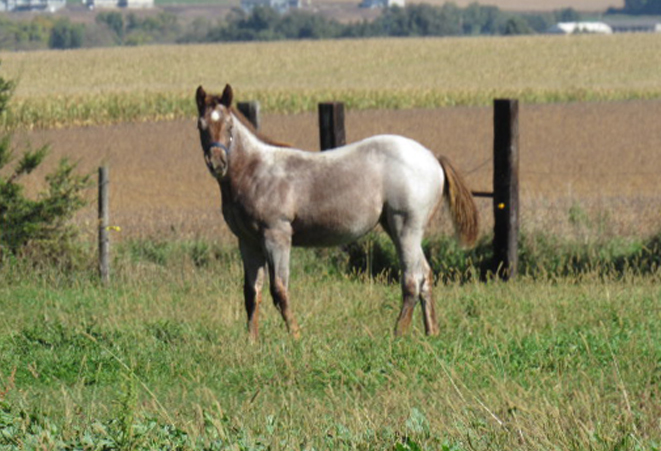 2016 AQHA Little Roan Belle is a tall, pretty headed chestnut roan filly with a white star, foaled May 22. Belle is by DW Mr Snippy San, whose pedigree includes Peppy San, Pablo San, and Snippys Cowboy. Her dam, Little Roan Kid, is by The Commerce Kid, and her pedigree includes Poco Dell, The Flying Saint, Blackburn, Mr. Tailwind and Triple Chick.
Belle floats thru the air when she travels and will have some height to her. She is 5 panel negative by parentage verification. We are working on halter breaking and picking up her feet.
This filly was originally in the "keeper" pen, but since we recently purchased 2 broodmares that we could use right away next spring for breeding, we have decided to sell Belle.
FOR SALE, $1450 FIRM. Coggins/health not included.

2016 AQHA dun filly (papers pending)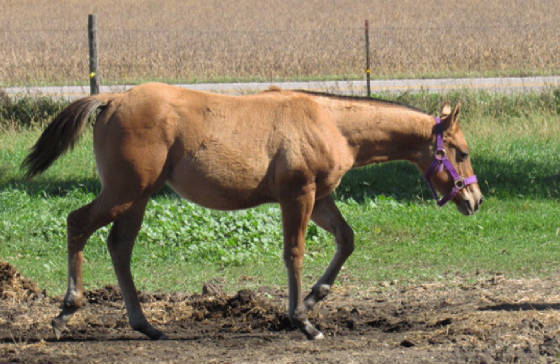 Remember the Song x Sizzlin Joe Jo
10/6/16 SALE PENDING: 2016 AQHA Remember Two Sizzle, a/k/a Maggie, was foaled 5/8/16 and is by Remember the Song, who has 78 perf. pts., his superior in halter, and is 2x world show qualifier. Remember the Song is by Mr Joes Song, 16.5 halter & 362.5 perf pts., & his dam, Miss Pearly Red, has 1.5 halter pts. & 74.5 perf. pts. Maggie's dam, Sizzlin Joe Jo, was sired by Sizzlin Two Eyes, and she's out of a daughter of Classic Watch.
We're anxious to see this filly develop, as she's heavily bred TEJ/WJJ. She's doing well with haltering, picking up her feet and has a super sweet disposition and is very people friendly. Maggie is HP branded and, when of age, she'll be eligible for the Pitzer Ranch Invitational. Based on size right now, we don't expect this filly to mature to over 14-2 hands.
FOR SALE, $1400. Coggins included, but not health.

WA Classic Jewell, filly, foaled 4/10/16
Classicwatchquickson x Ms Fancy Red Bark
AQHA WA Classic Jewell is a chestnut filly foaled 4/10/16. She has a pretty baby doll head and big hip. This filly had a sale pending on her, but buyer decided she was going to be too tall for her, so we did an exchange on a different filly; therefore, Jewell is back up for sale.
If you are looking for pedigree and one that will ride, don't overlook this filly just because she isn't colored. She has Watch Joe Jack 2X on her papers & once just off. On the bottom side of the sire's side, she goes back to Poco Bueno 3X. Jewell's dam is a daughter of Fancy Red Bark, who is 100% foundation.
Jewell is 5 panel negative by parentage verification. Sire & dam both stand 15-1 hands & this filly is by far our tallest this year. When of age, Jewell is also eligible for the Pitzer Ranch HP Invitational.
Coggins ready, but health/vet trip @ buyer's expense.
FOR SALE, $1000.