BOYS:
AQHA gelding Blueberry, 8 yrs. old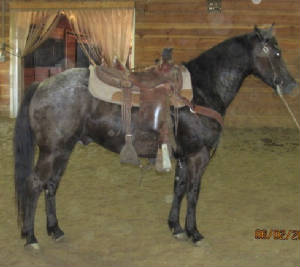 Sells grade
Blueberry is an 8 (mouthed by professional) year old true blue roan AQHA gelding, selling as grade, that stands 14-1 hands. He is very striking with no white markings and has gorgeous conformation with a baby doll head and huge hip. Well started under saddle, and riding well, but needs someone who has time to finish him. Not a mean bone in his body & does not offer to buck; just needs more wet blankets.
We purchased this gelding sight unseen as a trail horse with a lot of power, which he has, but he has more energy than we need at our age, as he is a gelding that can go all day and not what we were looking for. Not recommended for an inexperienced rider or child, because he needs more riding time.
Excellent prospect for heeling, barrel racing, ranch, feed lot work and endurance. He is the kind that will make a performance prospect deluxe and the color everyone wants!
Up to date on farrier and worming. He is currently located in Adrian, MN, at the trainer. Coggins ready.
FOR SALE, $2600.

2013 AQHA GB Holly Kinghancock, gelding
Good Bros x GB Miss Hancock Dude
2013 AQHA GB Holly Kinghancock whose pedigree includes Hollywood Buck x Hollywood Gold, King Hankins by King, Blue Apache Warrior by Happy's Warrior, Happy Hancock, Eddie, and Hancock's Dude. Got some running on the top and bottom, with Hyglo and Hancock's Dude, both with a speed index of 95.
This gelding is registered as blue roan, but is turning steel grey. King stands close to 14-3 hands & was foaled in June. He has a super sweet disposition and will make a great all-around prospect.
FOR SALE, $1675.

2015 WA Classic Kodiak, dun roan colt, foaled 4/4
Classicwatchquickson x Misty Mint Diamond
4/4/15 WA Classic Kodiak (pending AQHA), is a dark dun roan stud colt, with 2 tiny coronet bands on his left side. Kodiak loves to run and is athletic, stout, and well-muscled. He'll ride with the best of them and make if you want a quick mount, he'll fit the bill. He has a good mind and his conformation is good enough to make a stud prospect, if one should desire.
Sire and dam are both 5-panel negative, so he will be, too. You can see extended pedigrees for this colt on the home page and AQHA mare page.
FOR SALE, $1800.