AQHA 2011 Eyes on Red Bark, foaled 5/12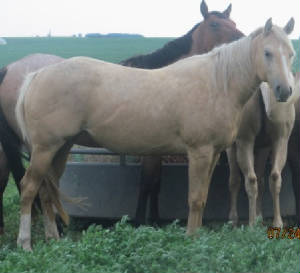 Fancy Red Bark x Eyes on Goldie
AQHA 2011 Eyes on Red Bark was foaled 5/12. She is by Fancy Red Bark out of Eyes on Goldie, an Eyes on Red Daughter. Her pedigree includes Poppys Dandy, Rhinestone Jack, and Gay Bar King.
Sunni is a stout, pretty headed, stocky filly with 4 socks and a strip standing 14.3 hands.
She has had 30 days of solid training; she tucks her head and backs, will drag a barrel behind her and at her side, lopes circles, ties, is easy to catch and trim. Sunni has also been ridden down the road and at a sale barn. You won't be disappointed in this mare. She has a good mind on her and likes to please.
Bred for working cow/roping, but would excel at barrel racing, trail, team penning, team sorting.
This filly needs to go to someone who rides more than we do & is younger than us, as she is extremely quick & athletic.
FOR SALE, PLEASE INQUIRE.

AQHA 2012 Eyes On Dazzle, palomino
Fancy Red Bark x Ima Shota Jack
AQHA 2012 Eyes On Dazzle was foaled May 26. She is by Fancy Red Bark, who is 100% foundation & pictured on the in memory/reference page of our web site, out of Ima Shota Jack, who is a daughter The Duke of Jacks, pictured on our past sales page.
Dazzle is a BIG palomino filly, with good bone, a pretty head, big hip and no white markings. She is friendly and has a kind, gentle nature.
Projected maturity: 15-3 hands or over.
Dazzle is big, and is an excellent heading, western riding, barrel racing/speed events, and good all-around prospect.
She will go for training in 2014,
at which time her price will increase.
NO TRADES.
FOR SALE, PLEASE INQUIRE