A horse/foal is not secured until a deposit is received towards the purchase price.
Prices are subject to change at any time.
It is important to us how our horses
are taken care of after they leave
our place. Please, if you can't give
them a good home, don't buy them.
We are glad to take additional photos, etc., but PLEASE give us the common courtesy of acknowledging our response and letting us know they were received.

WA Classic Jewell, filly, foaled 4/10/16
Classicwatchquickson x Ms Fancy Red Bark
AQHA WA Classic Jewell is a chestnut/sorrel filly foaled 4/10/16. She is pretty headed and has a huge hip.
If you are looking for pedigree and one that will ride, don't overlook this filly just because she isn't colored. She has Watch Joe Jack 2X on her papers & once just off. On the bottom side of the sire's side, she goes back to Poco Bueno 3X. Jewell's dam is a daughter of Fancy Red Bark, who is 100% foundation.
Jewell is halter broke, friendly, had her feet trimmed, and is 5 panel negative by parentage verification. Expected maturity is 15-1 hands or over. When of age, Jewell is also eligible for the Pitzer Ranch HP Invitational. Best suited for team roping, working cow/versatility, trail, and speed events.
Coggins ready. Please, no trades.
FOR SALE, $1650. FIRM

2013 AQHA WA Id Watchfancyboots, filly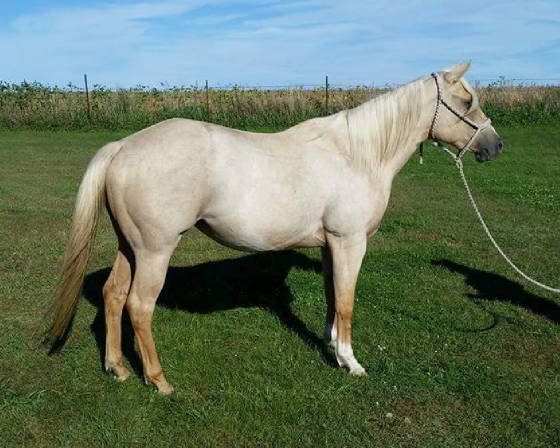 Fancy Red Bark x Di Id
2013 AQHA WA Id Watchfancyboots, a/k/a Sugar, is a daughter of Fancy Red Bark, a 100% foundation Roan Bar/Tom Baker stallion. She is out of a daughter of Id Watch, and has Tiger Leo just off her papers.
Sugar has had over 60 days of professional training, has been down the road, and been behind cattle.
Sugar belongs to Melissa and Josh Peters and they have decided to sell her, as she prefers slower gaits and is more suited for trail or ranch pleasure riding.
FOR SALE, $2500. Please contact Melissa at 507-329-7881 for more information or addl. pics.