FILLIES:
AQHA 2013 WA Red Barks Tilly, foaled 3/16
Fancy Red Bark x Pepon Peponita Pine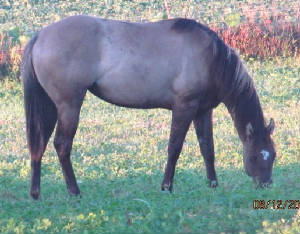 2013 WA Red Barks Tilly, a/k/a Tilly, was foaled 3/16. She is a grulla filly with a star & hind partial coronet. Tilly is big boned and has a pretty little head & short ears.
She is by Fancy Red Bark, 100% foundation, out of a double bred Peponita mare, Pepon Peponita Pine, pictured on the AQHA mare page of our web site.
Tilly is a real sweet heart and this was an excellent cross. She leads, ties, and stands for trimming. If not 100% foundation, this filly will be close to it. Projected maturity: 15-2 hands or over.
Bred for working cow/roping, but would also excel in trail, western riding, and speed events.
FOR SALE, $2000.

2014 WA Ima Classy Pixie, foaled 4/21
Classicwatchquickson x Watch Misty Diamond
She doesn't miss any meals!
AQHA 2014 WA Classy Pixie, is a grulla roan filly, foaled 4/21, and she has a star & front left pstern. She's by Classicwatchquickson x Watch Misty Diamond.
Pixie's a tank and pretty to boot. If you want a rider that will go all day, she'll be the one to pick as she'll be athletic & quick on her feet.
5-panel negative, as both sire & dam are.
FOR SALE ???, PLEASE INQUIRE.

2014 WA Classic Trixie, foaled 4/25
Classicwatchquickson x Di Id, bay filly
AQHA 2014 WA Classic Trixie, is a dark bay filly foaled 4/25, with a few white hairs on her forehead.
High percentage Pitzer bred, as her sire is a son of Classic Watch & is double bred Watch Joe Jack. Her dam, Di Id, is a daughter of Id Watch and is double bred Two Eyed Jack.
Based on how she looks now, it appears she will look much like her 1/2 sister from 2013. She'll be short-backed, short eared, pretty headed, stout and have that sweet personality. Trixie is 5-panel negative.
Priced lower, as she is the smallest in the group & gets pushed back at graining time, so we feel she'd do better alone or with one other weanling.
FOR SALE, $500. Coggins/health @ buyer's expense.

2014 AQHA WA Lidos Classic Liddy, foaled 5/16
Classicwatchquickson x Bubbling Lido
AQHA 2014 WA Lidos Classic Liddy is a dark chestnut filly with a star, snip, and partial hind pastern foaled May 16.
She is by Classicwatchquickson out of Bubbling Lido, daughter of Little Lido & her pedigree includes Smart Little Lena, Watch Joe Jack, & Docs Prescription mare.
This mare always produces foals with a kind gentle, disposition with good bone and this filly is no exception. We saved one of the fillies out of this mare ourselves and our daughter & son-in-law purchased last year's colt out of her.
"Liddy" is an excellent athletic prospect with a pedigree to back her up if one wants to use her as a broodmare later on.
FOR SALE, $700. Coggins/health @ buyer's expense.