GIRLS:
2014 AQHA GFR Philena Sioux, foaled 5/29
GFR Lakota Sioux X GFR Philenasue
Pic taken in October, but shows her
with no winter coat.
2014 AQHA GFR Philena Sioux is a pretty, big blue roan filly with 2 hind socks and a star. She was foaled 5/29, is high foundation (if not 100%) with pretty conformation and a nice disposition.
"Zorra" is an excellent arena prospect that has a lot of speed and athletic ability.
We halter broke Zorra, however, due to a lack of time she spent 2 weeks with a trainer. She picks up her feet for trimming and is very nice to handle.
FOR SALE, $1500.



AQHA Di Id, 2009 buckskin roan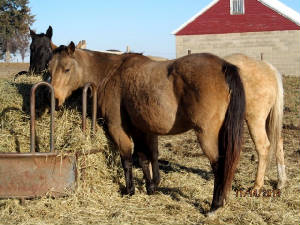 ID Watch x Cactus Di
AQHA Di ID is a buckskin roan mare foaled April 19, 2009. She is by ID Watch, who has open arena ROM 16.5 perf. pts. and amateur arena ROM 32.5 AQHA pts. Di's dam, Cactus Di, is Tiger Leo & Cactus Ben bred. She has a foal who competed at the World in Yearling halter.
Di's markings include a few white hairs on her forehead w/2 hind socks and she is HP branded. She stands 15 hands & has excellent conformation, a gentle disposition, nice head, big hip, and good bone.
She's raised two nice fillies for us, both with superb dispositions and baby doll heads, but since she came up open we have decided not to hold her over.
Di is bred for working cow and roping events. She is still young enough for someone to break out and she'd still be eligible for the 2015 HP invitational event at Pitzers.
5 panel negative.
Should buyer wish, she can be bred back to our son of Classicwatch, who has his open ROM in heeling.
NO LONGER FOR SALE - CONSIGNED TO PITZER'S SPRING SALE ON 4/25/15.