Pepon Forty Pine
1994 AQHA grullo stallion
Peponitas Poco Pine x Fortys Lady Pine
AQHA 1994 Pepon Forty Pine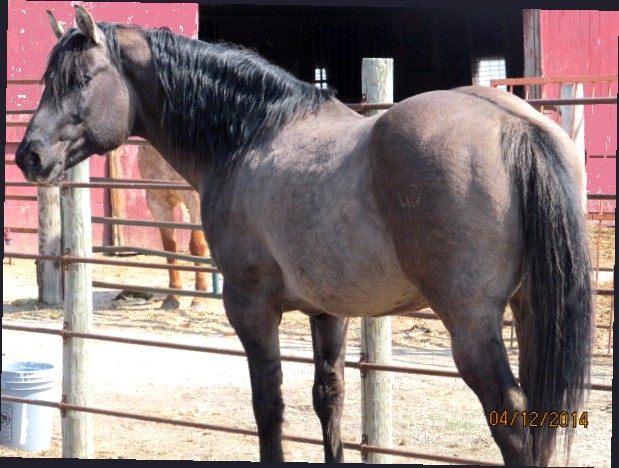 Peponitas Poco Pine x Fortys Lady Pine
AQHA 1994 Pepon Forty Pine is a grullo stallion with a star & three white pasterns. He has a beautiful head, good bone, big hip, & if not 100% foundation he is close to it. He is a true gentleman and his disposition can't be beat.
Pepon is a great grandson of Peponita, who was the 1975 NCHA World Champion and had his superior in cutting and has 74 perf. pts. His pedigree includes Peppy San, Bonito Tivio, Mr. Blackburn 40, Pretty Buck, Forty Caballeros, Poco Pine, and is double bred John Red who had a speed index of 95.
He is a well broke ranch horse and you can jump on him with a halter and lead.
We had the honor of purchasing this stallion from Collins Quarter Horses, formerly of Newell, SD, the fall of 2013.
3/24/14 Pepon's 5-panel test is all N/N.
2/23/15 Pepon was humanely laid to rest due to several tumors located around his right kidney. Although we owned him for a very short time, he'll remain in our hearts forever. He is greatly missed!

Fancy Red Bark
July 20, 1985 - May 5, 2013
AQHA red roan stallion
Red Cedar Bark x Susie Bell Bar
Pics taken 7/13/08 @ 23 yrs. old.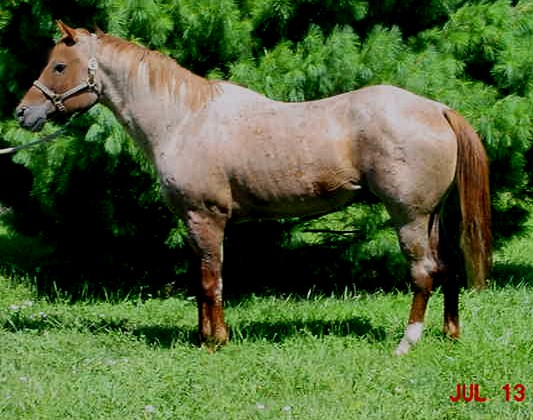 Fancy Red Bark was purchased from the Lazy JS Ranch of Bowman, ND, in August 2004 at their Quarter Horse production sale. He is a linebred Roan Bar and Tom Baker foundation Quarter horse stallion.
Red stands 15-2 hands & is registered in the FQHR at 100%. He consistently passes on a beautiful head and great disposition to his foals. Red is kind enough that you can run him w/the weanlings when needed. His foals have excelled in barrel racing, roping, halter, and working cow horse events.
We feel honored to have had Red in our family for as long as we did and we were fortunate to have him as our senior AQHA sire. 2013 are his last crop of foals. He will be greatly missed!

AQHA 2004 Dun By Blue Chips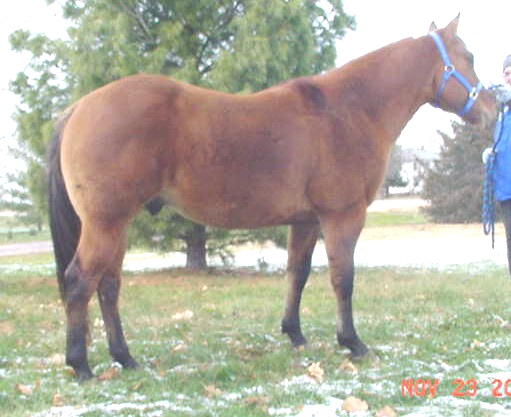 Wyo Blue Chips x Everybod D Watch Zip
AQHA Dun By Blue Chips, aka Rio, is sired by Wyo Blue Chips a grulla roan stallion with 30+ halter & 100+ FQHR performance points in ranch cutting, reining, team sorting, working ranch horse, ranch pleasure, trail, barrels, poles, and keyhole. (You can see Wyo Blue Chips @ http://www.laramieblues.com). Rio's bloodlines on the top side are double bred Blue Valentine and Leo and on the dam's side, Everybod D Watch Zip, is a granddaughter of Zippo Pine Bar and Watch Joe Jack. She has produced 2 FQHR National Grand Champion colts.
Rio has had 7 months of professional training and was hauled to ranch rodeos, competing in sorting and penning, around the South Dakota area. He was shown at the SD Horse Fair in March 2007 earning points in reining, trail, and halter. Kyle brought him home from training in June 2007.
He has strong dun factor and stands 15 hands, weighing in at 1180#. Rio's athletic, intelligent, level headed, versatile, extremely stout, and has excellent conformation with the disposition to match. He loves people, likes to please, & learns new skills by hitting them head-on.
December 2007 Rio headed back to South Dakota to further progress his cattle working skills.
On March 14-16, 2008, Rio was reserve champion in the stallion versatility show at the 18th Annual South Dakota Horse Fair in Sioux Falls. He placed in barrel racing, ranch cutting, halter, and western pleasure.
Since his move to SD again this year, Troy has drug calves to the fire with Rio and used him for mounted shooting and roping.
Rio is now at Circle N Appaloosas & Quarters at Hartford, SD. For more information, contact Troy @ 605-528-6214.